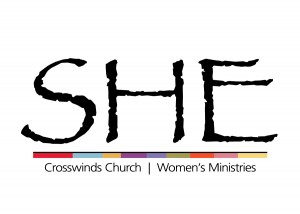 We believe: God has a personal plan for you to be connected not only with Him but with other women. We want to walk along side you as you go from where you are at to where God wants you to be.
SHE has large group events and small group gatherings design for YOU! Whether you're feeling discouraged, isolated, or lonely or you're at a good spot in life right now, come and connect! SHE is meant for YOU!
You can learn more about our events by checking out the Crosswinds Calendar.
You can also follow SHE on our Facebook page.
"SHE" the story behind the logo
The name: SHE
"SHE" was chosen as the name of our women's ministries because it covers every kind of woman.
SHE is Sleepy, Simple, Seeking, Sassy, Strong and Shy.
SHE Shares, Supports, Serves, Sings, Stitches, and Swims. SHE is Home.
SHE is Humble, Healthy, Hopeful and Hopeless.
SHE is Hospitable.
SHE is Hurting, Helping, and Healing.
SHE is HOT! Ok, this could have two different meanings.
SHE is Extroverted.
SHE is Energetic, Exhausted, and Encouraging.
SHE Exercises, Entertains, and is an Executive.
SHE spans the full spectrum!
The font:
We wanted the font to express the idea that we have rough edges; we aren't perfect and have had our share of bumps & bruises as we go thru life.
The color:
The bar of colors underneath represents the wide variety of interests women have.